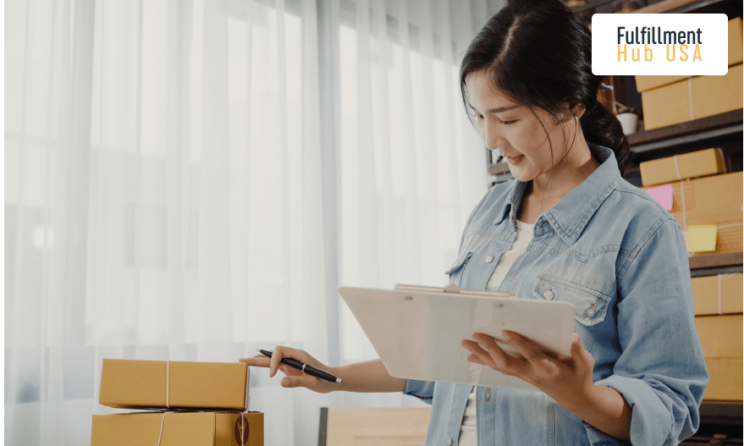 Small business owners wear many hats. They have to oversee all the business operations from production, marketing, and shipping to ensure a smooth customer experience. Finding the right solution for every aspect of an eCommerce business is crucial. In this article, we'll walk you through the top elements to keep in mind when deciding on a shipping strategy and how you can reduce shipping costs for your small business. Let's dive in.
Content Topic
All About Shipping for Small Businesses
Things Small Businesses Should Consider Before Shipping
Ways to Reduce Shipping Costs as Small Businesses
Are You Ready For a 3PL Partnership?
To Sum Up
Get the Best Shipping Deals with Fulfillment Hub USA
Small Business Shipping FAQs
All About Shipping For Small Businesses
For any eCommerce business, shipping is a crucial aspect. Even for small businesses that operate only with brick-and-mortar, it holds immense value. For both cases, it is important for a business owner to understand the ins and outs of shipping for small businesses to make sales, expand the business, and take it to the next level.
Things Small Businesses Should Consider Before Shipping

difficult task. Hence, before you opt for any service, consider defining the following elements :There are a plethora of solutions when it comes to shipping for small businesses. Choosing one that serves your business requirements is a
Order Volume
The number of orders you ship every month plays a vital role in defining your shipping strategy. Small business always has a different strategy than established companies. Depending on the number of orders you ship every month, you opt for a shipping plan from your shipping carrier.
With significantly low order volume, you can drop the packages off by yourself at the post office every time you have new orders. However, as your order count increases for each month, you can try FHU's shipping solutions for your eCommerce fulfillment.
Packaging
The packaging of your products depends on their fragility. If the product is
fragile, then it needs bubble wrap or air-fill for extra protection but you won't need anything like this if you are selling t-shirts. Consequently, this impacts your package dimensions and weight.
The type of packaging defines your shipping cost. Hence, choose it wisely while keeping the protection of the product in mind. If the size of your packages is consistent then you should try using Flat rate shipping, offered by various carriers.
Package Dimensions and Weight
Stating the fact, shipping for heavier packages costs more than the lighter ones unless you are using flat rate shipping. Calculate dimensional weight for your packages to determine the dimensions of the shipping products. The average package dimensions play a role in calculating shipping costs and setting your budget.
Tracking
If you provide tracking information to your customers then it is an additional service. Moreover, 80% of customers expect the ability to track
their orders and 76% of them want SMS communication throughout their entire shipping process.
Hence, to include tracking details into your services or not is an important decision to take for your small business. A clear and updated communication with your customers provides you a competitive edge.
Tracking information doesn't impact the cost much but affects the quality of your customer services.
Shipping Destination
To define your shipping strategy, you must decide on your delivery sphere. The answer, if you are shipping internationally or not, where the majority of your customers are located, and how quickly your customers want the
order to deliver.
Answering all these questions helps you define your shipping strategy and your target audience. The farther the destination from your location, the costlier the shipping will be. Hence, it's advisable to partner with a
fulfillment center that has strategically placed at multiple locations to reduce shipping costs.
Delivery Time
Transparency is the key. Similar to tracking details of the package, customers should always know beforehand about the delivery time. This helps you build trust among your customers, especially when you are shipping internationally.
Research your market and find the shipping carrier that provides the services according to your requirements. Make sure it has a record of delivering rapidly because it is proven that buyers abandon their carts
because of slow shipping. Moreover, it is not always the carrier; if your lead time is more, you are likely to get the delivery delayed.
Hence, defining an average delivery time is important to create a shipping strategy.
Insurance
You can opt to provide insurance to your customers. If the goods are luxury and the thought of something going wrong in the transit is worrisome then, offering insurance to your customers is a good choice.
Ways To Reduce Shipping Costs As Small Businesses


It is easy to get tempted with the lowest possible shipping solution, especially when you are starting out. But this isn't always the most effective way to reduce shipping costs. There are many other ways to do that. Let's have a look at them.
Negotiate Rates
If you are shipping more than 100 orders per month, you may be able to negotiate rates with your shipping carrier to get better discounts and
special offers. There are multiple carriers that provide such benefits to the growing businesses.
Look into small business programs of UPS, USPS, and FedEx. Reach out to them to check if you are eligible for the discounts and offers.
Choose Affordable Packaging Materials
Packaging costs add up and can take up your whole budget. Custom branded packaging is an appealing option. However, it isn't a must-have option. Plain, transparent packing material works a lot. Buying packaging material in bulk upfront sounds like an expensive idea. Nonetheless, it saves costs in the long run.
Outsource Shipping
One of the best solutions to save on shipping costs is outsourcing your shipping to a third-party fulfillment. When you outsource your eCommerce order fulfillment, you outsource your worries to manage a business as well. For businesses with fewer orders, it might sound like an expensive idea.
However, it is worth considering because of the time it provides you to scale your business.
Are You Ready For A 3PL Partnership?
If you are planning to outsource your business, consider answering the following questions first:
Do you ship more than 100 orders a month?
Well, 100 isn't the magic number but it signifies a number of orders enough to afford outsourcing for your fulfillment process. If you're shipping fewer orders per month, partnering with a 3PL is expensive for you. However, as your business grows, take note of the time you are spending on order
fulfillment and if you are getting time to scale your business. If not, then start finding a reliable fulfillment partner.
Are your shipping routes optimized?
The math of shipping is simple, the farther your ship, the more it costs. When you are handling your order-fulfillment process in-house from one location, you are limited in terms of saving money.
To overcome this and save more money, partner with a fulfillment center that has strategically placed their warehouses at multiple locations to reduce transit time and shipping costs, just like Fulfillment Hub USA.
Do you want to deliver rapidly at a lower cost?
Shoppers are getting impatient in terms of delivery time, says emarketer.com. Hence, if you are not delivering on time or taking a lot of
time, it is highly likely that your customers will choose your competitor over you. However, two-day delivery, next-day delivery, and same-day delivery are costly, especially when you're offering it for free to your consumers.
Outsourcing your fulfillment can make your rapid delivery at an affordable cost possible. No matter the size of your business, 3PL companies offer rapid delivery for all. Therefore, if you want to provide swift delivery to your customers then partnering with a 3PL works the best for you.
Are you running out of space to store inventory?
When you are growing your business, you need space to store your
inventory. If you are fulfilling your order in-house, it becomes hard to find inventory space and expensive when you buy a warehouse space.
Outsourcing your inventory management and the order-fulfillment process can help you manage your inventory and order efficiently at an affordable cost.
KNOW MORE
To Sum Up
The way a small business ships its products affects its growth. Hence, you should focus on providing better, rapid, and efficient delivery services to your consumers. The best way to provide this is to outsource fulfillment.
Therefore, start by finding a reliable fulfillment provider for your small business-like Fulfillment Hub USA.
Get The Best Shipping Deals With Fulfillment Hub USA
Fulfillment Hub USA is the largest fulfillment center in South Florida. We provide efficient order-fulfillment, inventory management, and an excellent, positive experience to your customers. Our services help you grow your business in the best possible way at an affordable price. Contact our team of experts and get affordable shipping for your small business started!
Small Business Shipping FAQs
How do you reduce shipping costs for small businesses?
There are various ways to reduce shipping costs for small businesses: negotiate carrier rates, choose affordable packaging material, and
outsource fulfillment to a 3PL that has the expertise and infrastructure to make shipping efficient and affordable.
What is the best shipping method for small businesses?
The method that has minimal shipping requirements and can be
implemented right away at an affordable rate is best for small businesses. Moreover, it should be flexible with you expanding your business.
How to calculate shipping costs for small businesses?
There are many factors that decide shipping costs for your business. They vary from package dimensions, shipment type, weight, location, and more.
Is expedited shipping worth it for small businesses?
Expedited Shipping is expensive especially when you are starting out. But if your products are time-restricted then it is better to opt for expedited shipping from the shipping carrier that provides the best deal and has a proven record of delivering on time.
Anjali
She is an avid reader turned content creator. She has over 4 years of experience in writing B2B and B2C website content, articles, and social media content. She has
worked with different types of content; from tweets to full-fledged video scripts and privacy policies. Apart from reading and writing, she connects with plants, traveling, and psychology.